KCI Model K1R-6 Powder Coating Gun
KCI Powder Coat Gun System

KCI Powder Coating Gun Model K1-6
Just $3,297.00 U.S.D. for the Complete System
Ships Pre-Assembled FREE to Your Door (a $300.00 Value)
Includes Best in Business 5 Year "No Wait" Warranty
Watch The K1-6 in Action

 "We really like the gun and it works great with 14,000 Watt the oven we built!"
Luis Medina- Evatech Inc. Tarpon Springs, FL
More of The KCI Model K1-6 in Action

Just Some of the Companies Using KCI Powder Coating Guns  
LG Appliances
Performance PC
Seal Tec Global
CNC Art Cut
Advanced Powder Coating
Simply Powder Coating
Maine Source Machinery
BC Powder Coating 
ACS Products
Evatech.net
JD's Powder Coating
Advanced Finishings
Infinity Powder Coating
Advanced Coatings
C&S Powder Coating
All American Fitness
Belvin Bros
BCA Powder
Ranew's Auto & Truck
Pickering Powder Coating
Iron Innovations
Resia Construction
Phoenix Metals
Special FX
Suraco Powder Coating
Paradigm Group. LLC
Xtreme Armor
Don Prince Powder Coating
Contagious Customs
Brad Werner Powder Coating
Josh Miskin Powder Coating
Drakon Coatings
Avcom, INC.
KKM Metals
Heartland Trailer
Diamond State Concepts
SB Powder Coating
TCW Metals
Mavron, Inc.
Avanta
Lawrence Livermore National Laboratory (US GOV)
Schneider Electric
Heartland Trailer
Clark Brothers Welding
Mickey Johns Outdoors
San Juan Powder Coating
Ordinance Research
Infinity Powder
J&D Powder Coating
NB Electric
Recycle Designs
Digico
Gomes Powder Coating
Doyal Design & Fabrication
DG Welding
B&L Welding
Vintage Works
Goodding Performance
TG Industries
D Cucci Boats
MCA Fabrication
KKM Metal
Arsco Mfg.
American Coating & Welding
Green Powder Coating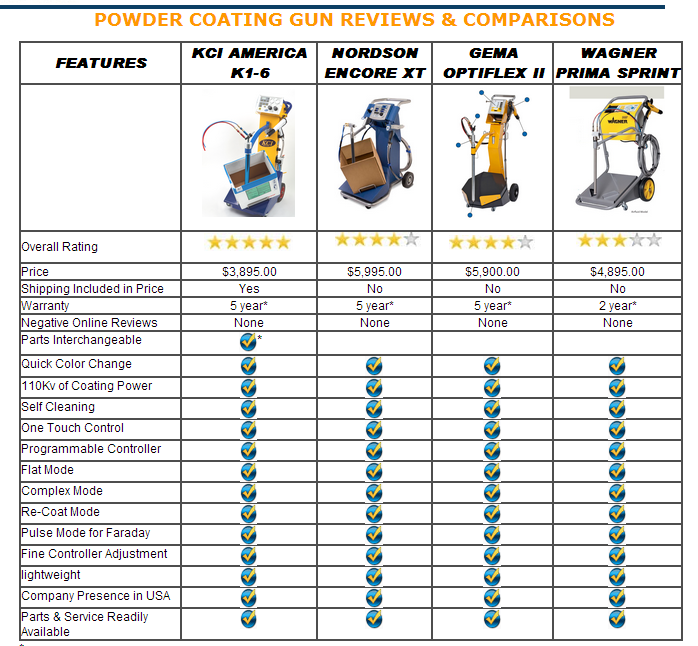 *Powder coating guns review and comparison table constructed using each manufacturers own literature. Pricing other than that supplied by us for the KCI powder gun was found online at various dealer sites.
Performance You Can Count On at an Affordable Price
All The Same Bells and Whistles as Gema, Nordson & Wagner
A Full 100Kv of First Pass Power
Three (3) Preset Coating Modes
Custom Programmable Controller
Quick Color Changes
Clean/ Purge Button on Gun
A Gun You Can Count On Day After Day
KCI powder coating guns have a reputation for reliability and performance all across the U.S., Europe, and Asia. Some of the largest manufacturers in the world count on KCI guns everyday to keep their production flowing.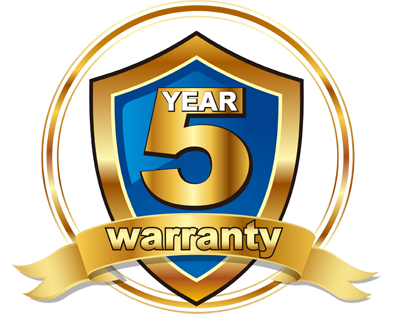 Best in Business 5 Year "No Wait Warranty"
Lets face it… No matter what brand of gun it is you decide to buy, someday it's going to break down. Its inevitable. That's why choosing the gun with the best warranty is so important.
Most of the big gun makers these days offer what we call "Wait and See Warranties" When something goes wrong with your gun, you have to call to get a return authorization number from the place of purchase.
Then they require you to ship it back to the manufacturer at your own expense and wait to find out whether you're covered under their warranty or not. That can take a week or more. Meanwhile you're production goes down, work starts to pile up and your customers get antsy.
With our 5 year "No Wait Warranty" you simply call our aftercare center and we'll walk you through a simple over the phone diagnostic test to determine what's wrong.
Based on the results of the quick test we'll either UPS Red (overnight service) whatever replacement part is needed to get you back up and running or ship out a replacement gun. In most cases you're back shooting powder in less than 24 hours minimizing your downtime and aggravation.
The KCI Story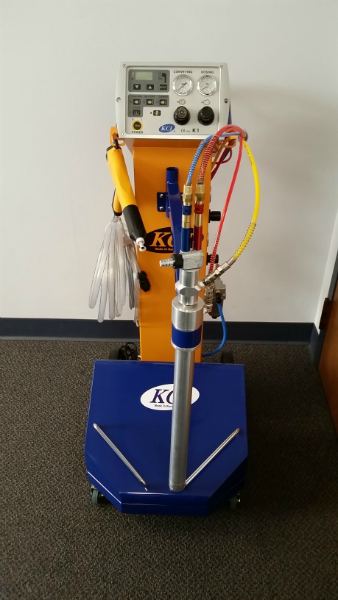 KCI guns have been causing a stir ever since they hit the streets in back in 1980's. They were the brainchild of a powder coating factory owner who found himself in a constant battle to keep his guns online and production running.
After months of repeated failures and days of downtime he had enough and went looking for a different solution. When he couldn't find one he decided to design his own.
Some say he did it all on his own, others say that he stole a Design Engineer away from one of the other big gun makers to build it for him. Either way, his new design was quickly finished and immediately put to work in his factories.
As word of his success spread to other manufacturers in his field, companies began seeking his gun system for themselves and very quickly his gun sales grew to the point where he decided to formally launch KCI as a separate company.
Throughout the 80's and early 90's KCI began to capture huge market shares in countries all across Europe and Asia capturing as much as 70% market share in some countries and quickly became a serious threat to the other brand names in the business.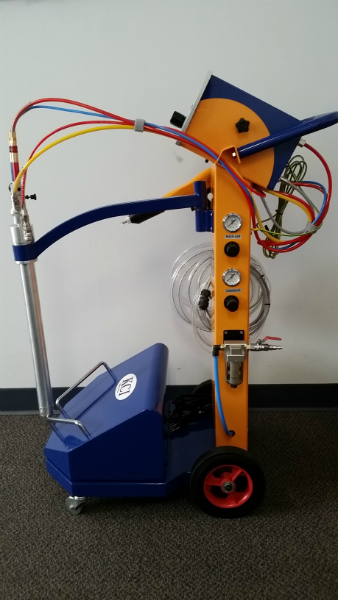 In fact at one point one of them tried to buy them out, but the owner declined and KCI has been growing and gaining market share steadily ever since.
In 2008, KCI came to the United States and set up operations in Illinois. While not quite as well known here yet as GEMA or Nordson, powder coaters all across the country are recognizing the value and savings of KCI guns in record numbers and saving thousands.
Questions?
No problem. Just give us call. We'll be happy to answer any questions that you may have.
Call 207-330-5466
Terms of Sale: All prices in U.S.D. Equipment ships form IL. Payment in full required before shipment. Shipments to residences are by UPS ground service and ship dis-assembled due to UPS regulations.