Description
New 2-in-1 Powder Coating Gun by IntelliCoat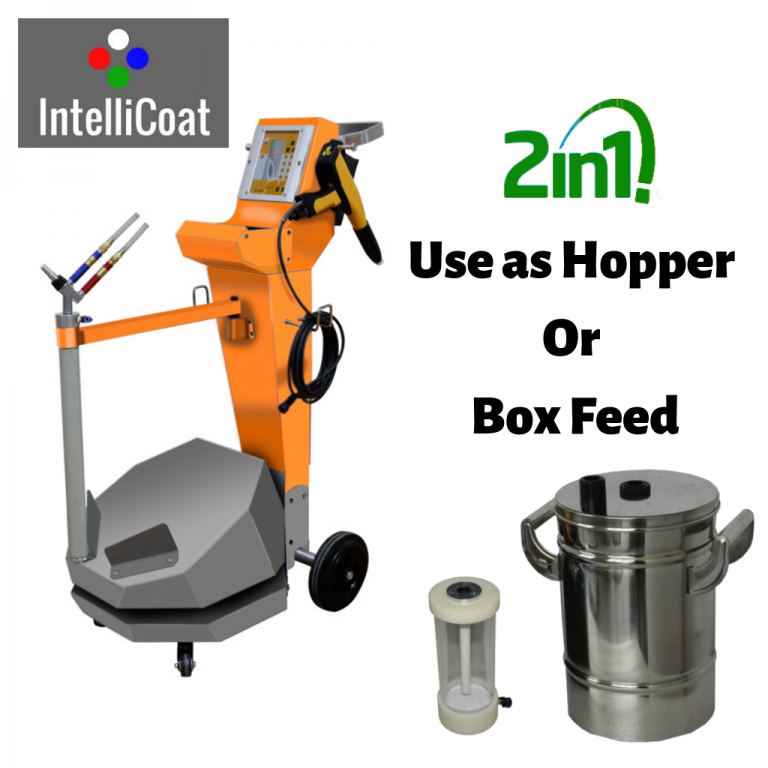 IntelliCoat' s new 2-in-1 Powder Coating Gun Package gives you the best of both worlds by combining the functions of a box feed gun and a hopper feed gun together into one easy to use factory-matched system.
Literally two machines in one, it's the perfect setup for the powder coating shop that handles different types and sizes of jobs on a daily basis.
From flat work to fenders or machined parts to metallic' s and textured powders, the 2-in-1 can handle any job that comes through your shops door with ease.
Features our Top of the Line Gun and Controller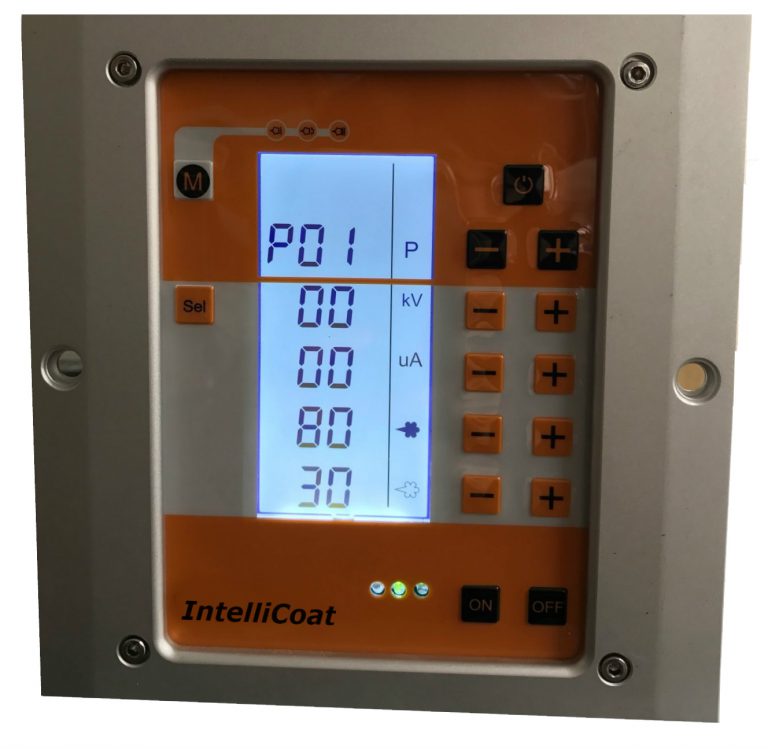 At the very heart of the system is our best box feed gun and controller, the model 241-B which is built to the same exacting performance standards as guns costing thousands more
This machine features our digital control valve technology for fast and precise adjustment that ensures that what you set at the controller comes out of the gun.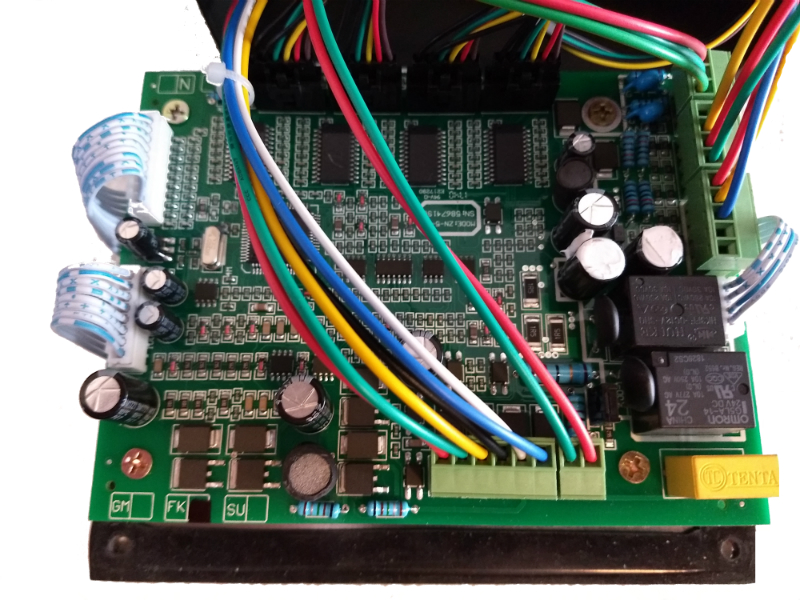 With its 4 micro processor LCD digital controller, changing from box mode to hopper mode is push button simple and takes under 2 minutes. Just press the hopper mode button, load the hopper, plug it in and you're ready to go.
Includes Two (2) FREE Hoppers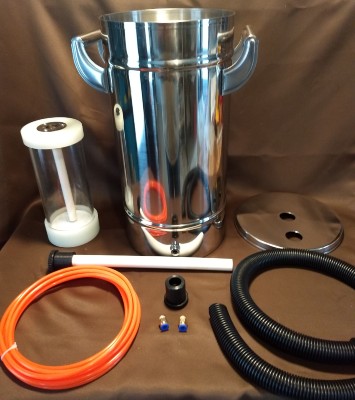 IntelliCoat' s 2-in-1 Powder Coating Gun Package ships with 2 different sizes of hoppers to handle any type of powder and any size job. The 2 liter organic glass mini hopper is perfect shooting metallic's and for quick jobs like a set of rims or fenders.
The 10 liter stainless steel hopper holds 5 to 8 lbs. of powder and is ideal for those larger jobs.
Quick Program & Powder Flow Changes
Program and powder flow changes are fast and easy too. Just press the "P" button to move between coating modes. and use the handy up and down arrows for adjusting powder flow as you coat.
Powder Recipe Storage
Up to 23 recipes can be stored in the controllers memory.
100Kv of First Pass Power
The IntelliCoat 2 in 1 machine is a fully duty commercial grade system that puts out a true 100Kv of powder charge at the tip.
Some of the Many Users of IntelliCoat Powder Coating Machines & Equipment
| | | |
| --- | --- | --- |
| 5 Star Powder Coating | Primo Powder | Yanush Powder |
| Custom Golf Products | R&R Specialties | Watt Powder Coating Service |
| Abbitz Measurements | Metal and Art, Inc. | Tayou Powder Coating |
| Mays Powder Coating | Schrank, Inc. | Crespo Powder Coat |
| Ed Phillips Powder Coating | Earls Powder Coating | Whipple Powder Coating |
| Politi Powder Coating | Auto Envy | Reaser Powder Coating |
| Evans Machine | D&T Steel | Kottman Powder Coating |
| Steinhoff Powder Coating | Photo Lab | Precision Laser |
| Flagstaff Powder Coating | Wedertz Powder Coating | Top Cast Aviation |
| Spooled Performance | Woodzfab Powder | Prep-Coat |
| Marengo Bend Custom Fabricators | Reaser Powder Coating | Klein Powder Coating |
| Jody Gal | Durre Brothers | Margaurdt Powder Coating |
| N.E. Company | Whittemore Powder Coating | Smith Powder Coating |
| Knights Welding | Chavez Powder Coating | Durre Brothers |
Use as a Box Feed or Hopper Feed Machine
Free Shipping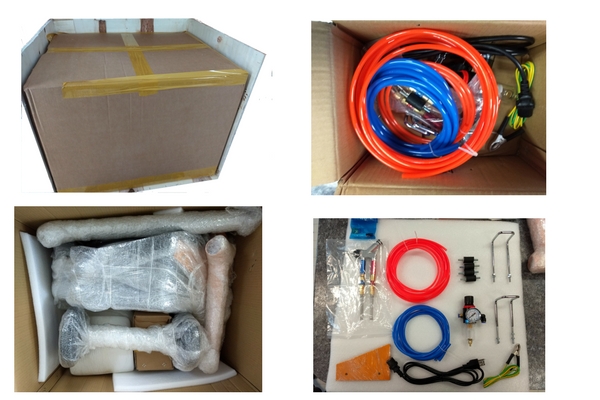 Your IntelliCoat 2 in 1 system will ship for free, carefully packaged and directly from our factory in China to your door by Fed-Ex. (Please allow approximately 7 to 10 days to receive your order.)  10 minutes of simple nut and bolt assembly is required and a video detailing assembly is provided.
3 Year Warranty
Every IntelliCoat system is backed by our backed by a full 3 year factory warranty (See it here). Should your system ever fail to operate, a simple phone call to us and a UPS truck is all that's needed to get you back-up and running fast with our U.S. Based parts and service.
Questions?
No problem. Just give us call. We'll be happy to answer any questions that you may have. Just call us at 855-445-9660 (Toll Free)
What's included in the Package?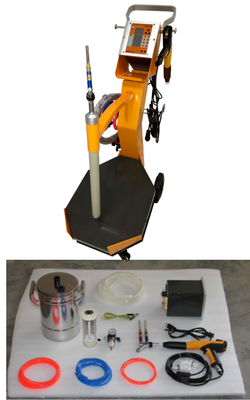 1- Complete Model 241B Box Feed Powder Coating System with gun, controller, stand, hoses, cables, and connectors.
1- 2 Liter Mini- Hopper
1- 10 Liter Stainless Steel Hopper
1- Assembly and Operation Manual and Video in English
Pricing
 All prices are U.S.D. and payment in full is required before shipment.
 855-445-9660 (Toll Free)
***Special $100 Extra Discount***
Orders that are placed online and are paid for by Bank Wire Transfer (BAC) instead of a Credit or Debit Card will receive an extra $100 discount. Simply enter coupon code "wire" at checkout and select " Direct Bank Wire Transfer" at checkout.  All other terms apply.
Questions?
No problem. Just give us call. We'll be happy to answer any questions that you may have. Just call us at 855-445-9660 (Toll Free)
Important Ordering Info: